Vivente is an intimate sized skin and brow studio in Brisbane's Northside specializing in Body Sugaring in Grange – giving high tech treatments elevated with high touch (that means we love giving facial massage) . Our beauty and spa services can be pampering or results driven – you choose.
Our guests feel relaxed and in safe hands, confident that their concerns will be listened to – and with integrity and professionalism. Best outcomes for your skin are our main focus.
Are you tired of the anonymous treatment at the 'franchise' salons? Where they don't remember your name? Are you tired of getting a different inexperienced beautician every time you visit them?
If you said "YES" , then it's time choose our independent salon where caring more you and making you feel special is our ultimate goal.
Kim – Owner



I'm the proud owner of Vivente (27+ years) and am so proud of being able to offer consistent high quality beauty services.

You can feel safe with us because our team has more than 50 years of experience!

I love our tiny space that feels incredibly welcoming and relaxing. It's my 'place of Zen" and I sincerely hope that you will feel the same.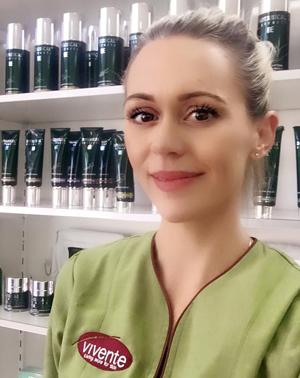 Ailie – Therapist



Ailie worked at our original Vivente more than 17 years ago! Since then she has traveled the world while working at other salons, traveled some more, worked at a home salon, had a family and ran her own luxury Day Spa!

Everyone who has a Hot Stone Massage with Ailie, raves about how great they feel.
Marni – Therapist & Brows Specialist



Marni is a kindred spirit Eyebrow Design Obsessive!

Check out her totally gorgeous brows that she does herself.

Marni also is a Lash Lift Specialist so we've added that to our service menu. She is a natural at Body Sugaring so it won't be long before she is available for our full range of services.
Join the team – Position Available
We have a casual position available for a Diploma qualified Beauty Therapist for between 20 < 30 hours per week.
The hours can be flexible to suit your needs. If you know how to care more for clients, then we want to hear from you.
We would love for you to make the effort to drop into the salon with your resume in person.